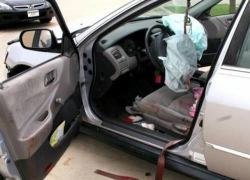 — The Takata airbag recall list has been updated and expanded by the National Highway Traffic Safety Administration (NHTSA) to include two additional automakers and more vehicles.
For months it was believed defective Takata airbag inflators could be found in vehicles from 10 automakers, but that number has now grown to 12. The government estimates 19 million vehicles are affected, many of those vehicles with more than one defective Takata airbag inflator.
The inflators are at the heart of the exploding airbags that have maimed and killed vehicle occupants. Although research continues, most experts believe age, heat and humidity are at the source of the problem that can cause the inflators to rupture from a simple fender-bender. The inflators have an explosive chemical called ammonium nitrate, one of the cheaper chemicals to use, but a chemical that becomes unstable if affected by moisture.
NHTSA also announced it will hold a public information meeting on Thursday, October 22, 2015, regarding Takata airbag recalls. The meeting will cover "possible actions that could aid in prioritizing, organizing, and phasing the multiple recalls to remedy defective Takata airbag inflators."
NHTSA says the meeting will help the public to understand the risks associated with the airbags and what every automaker is doing to fix the problems.
Learn more about the Takata airbag recall meeting.
Vehicles in bold print have been added or updated to the Takata airbag recall list as of September 16, 2015.
BMW Takata Recall List
2000 BMW 328i
2001-2006 BMW M3
2002-2003 BMW M5
2000 BMW 323i
2002-2006 BMW 325Ci
2002-2006 BMW 330Ci
2002-2003 BMW 325iT
2002-2003 BMW 325XiT
2001-2006 BMW 325i
2001-2005 BMW 325Xi
2001-2006 BMW 330i
2001-2005 BMW 330Xi
2002-2003 BMW 525i
2002-2003 BMW 530i
2002-2003 BMW 540i
2003-2004 BMW X5 3.0i
2003-2004 BMW X5 4.4i
FCA (Chrysler) Takata Recall List
2007-2008 Chrysler Aspen
2005-2010 Chrysler 300
2005-2010 Chrysler 300C
2005-2010 Chrysler SRT8
2008-2010 Dodge Challenger
2005-2010 Dodge Charger
2005-2011 Dodge Dakota
2004-2008 Dodge Durango
2005-2010 Dodge Magnum
2003-2008 Dodge Ram 1500
2003-2009 Dodge Ram 2500
2003-2009 Dodge Ram 3500
2008-2010 Dodge Ram 4500
2008-2010 Dodge Ram 5500
Daimler Trucks North America Takata Recall List
2008-2009 Sterling Bullet 4500
2008-2009 Sterling Bullet 5500
Daimler Vans USA Takata Recall List
2006-2008 Dodge Sprinter 2500
2006-2008 Dodge Sprinter 3500
2007-2008 Freightliner Sprinter 2500
2007-2008 Freightliner Sprinter 3500
Ford Takata Recall List
2004-2006 Ford Ranger
2005-2006 Ford GT
2005-2014 Ford Mustang
General Motors (GM) Takata Recall List
2007-2008 Chevrolet Silverado 2500
2007-2008 Chevrolet Silverado 3500
2007-2008 GMC Sierra 2500
2007-2008 GMC Sierra 3500
2003-2007 Pontiac Vibe
2005 Saab 9-2x
Honda Takata Recall List
2001-2007 Honda Accord
2001-2005 Honda Civic
2003-2005 Honda Civic Hybrid
2002-2006 Honda CR-V
2003-2011 Honda Element
2002-2004 Honda Odyssey
2003-2008 Honda Pilot
2006 Honda Ridgeline
2003 Acura CL
2002-2003 Acura TL
2003-2006 Acura MDX
2005 Acura RL
Mazda Takata Recall List
2004-2006 Mazda B-Series Truck
2003-2008 Mazda Mazda6
2006-2007 Mazda Mazdaspeed6
2004-2005 Mazda MPV
2004-2008 Mazda RX-8
Mitsubishi Takata Recall List
2004-2006 Mitsubishi Lancer
2004-2006 Mitsubishi Lancer Evolution
2004 Mitsubishi Lancer Sportback
2006-2009 Mitsubishi Raider
Nissan Takata Recall List
2001-2003 Nissan Maxima
2002-2006 Nissan Sentra
2002-2004 Nissan Pathfinder
2001 Infiniti I30
2003-2005 Infiniti FX35
2003-2005 Infiniti FX45
2002-2004 Infiniti I35
2006 Infiniti M35
2006 Infiniti M45
2002-2003 Infiniti QX4
Subaru Takata Recall List
2003-2005 Subaru Baja
2004-2005 Subaru Impreza
2003-2005 Subaru Legacy
2003-2005 Subaru Outback
Toyota Takata Recall List
2003-2007 Toyota Corolla
2003-2007 Toyota Corolla Matrix
2004-2005 Toyota RAV4
2002-2007 Toyota Sequoia
2003-2006 Toyota Tundra
2002-2007 Toyota Lexus SC