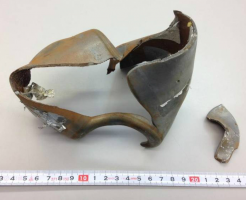 — Airbag maker Takata says its previous airbag inflator design will eventually go the way of the horse and buggy after the recalls of about 50 million vehicles worldwide.
In a statement made to members of the House Energy and Commerce Committee, Takata Vice President Kevin Kennedy said most of the airbags that have exploded were on the driver's side and have metal inflators that use "batwing" propellant wafers.
"Batwing-Equipped" Airbag Inflator Problems
At least 67 of the batwing-equipped inflators have ruptured in the U.S., with 58 of the ruptures occurring in vehicles that had already been recalled. Kennedy said all the fatalities and most of the injuries in the U.S. involved the batwing inflators. Additionally, most of the airbags exploded in areas with high heat and high absolute humidity.
Takata documents show the percentage of airbags that explode is low, but Kennedy said he is well aware that one exploding airbag is one too many.
After testing thousands of inflators, Takata says the best evidence suggests the inflators can rupture after a period of years due to heat and humidity altering the propellant wafers made with the explosive, ammonium nitrate. However, Takata says it's possible manufacturing issues also could have affected the inflators.
The airbag manufacturer says all driver-side inflators that use the batwing design will need to be replaced, which means many airbags already repaired will need to be recalled again.
Will Protecting the Ammonium Nitrate from Humidity Help?
Takata says it is working to transition to a newer version of driver inflators, or possibly using other inflators made by other suppliers and made without ammonium nitrate. But the plans for now are to keep using ammonium nitrate and adding a drying agent to the chemical to protect it from moisture.
Takata says it has a different propellant called guanidine nitrate, but ammonium nitrate will still be used in many inflators until eventually all the inflators will be made with guanidine nitrate.
The airbag company says 21 passenger-side airbags have exploded in the U.S., none causing a fatality. Again, as in the case of the driver-side airbags, Takata says high absolute humidity and heat, along with years of time, is the cause of passenger-side airbags exploding. However, Takata says one specific type of passenger inflator seems to be affected by the particular makes and models of certain cars.
Turning a Corner
Takata might appear to be finally coming clean in its role in the airbag disaster, but lawmakers know how much the airbag maker hesitated to take action sooner.
Takata has been under a criminal investigation since November 2014, and in December 2014, the company rejected the idea of recalling the defective airbags on a nationwide scale. The same thing the airbag maker now says it will do.