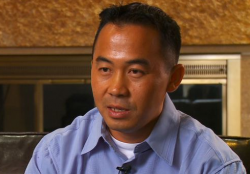 — Toyota will pay $11 million in damages to crash victims and their families after a jury found the automaker 60 percent liable in a deadly 2006 unintended acceleration crash.
The accident involved driver Koua Fong Lee, who had been at a church function with his pregnant wife, child, and his father and brother. Lee was driving his 1996 Toyota Camry when it suddenly accelerated out of control and headed for an intersection.
According to the lawsuit, the Toyota Camry rear-ended a 1995 Oldsmobile Ciera, killing two people and leaving a six-year-old girl a quadriplegic. The girl died the following year. Two additional passengers in the Ciera suffered serious injuries, but Mr. Lee and his family escaped serious injury.
Koua Fong Lee was sentenced to eight years in prison for criminal vehicular homicide, yet Lee kept insisting he tried to stop the Camry by pumping the brakes, but the car kept accelerating.
Not until Toyota started recalling cars for unintended acceleration did Lee finally have his case reopened by prosecutors. Lee was released from prison in 2010 after prosecutors dismissed the charges. By that time, Lee had spent over two years in prison away from his family.
Mr. Lee and his family members, along with family members of those killed in the Ciera, filed a lawsuit against Toyota that alleges a defect in the throttle system caused the Toyota Camry to experience unintended acceleration. Toyota denied the charge and said Lee panicked and accidentally put his foot on the gas pedal instead of the brake pedal.
The six-man, six-woman jury heard from experts on both sides and spent four days deliberating following the three-week trial. According to court documents, jurors could not originally reach a unanimous verdict and were told by federal Judge Ann Montgomery to try again. Judge Montgomery instructed each juror they needed to reach a verdict as long as they could do it without violating their conscience.
The final verdict handed down by the jury almost evenly split the responsibility for the crash, 60 percent the fault of Toyota, 40 percent the fault of Koua Fong Lee. Damages awarded directly to Lee will be reduced by 40 percent and taken from the $11 million award.
Based on court documents, the awards are as follows:
Jassmine Adams: $4 million
Quincy Adams: $1.2 million
Koua Fong Lee: $1.2 million
Panghoua Moua: $750,000
Jemee Lee: $150,000
Nhia Koua Lee: $15,000
Nong Lee: $25,000
The Estate of Devyn Bolton: $4 million
"While we respect the jury's decision, we believe the evidence clearly demonstrated that Mr. Lee's 1996 Camry was not the cause of this unfortunate accident. We will study the record and carefully consider our legal options going forward." - Toyota