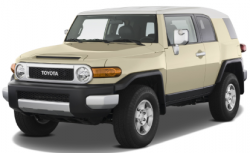 — Toyota is recalling 120 FJ Cruiser vehicles because a bad weld could cause a loss of steering control. Toyota says the 2014 FJ Cruiser might have an intermediate shaft with a bad weld where the steering wheel and gear box connect. A loss of steering control could occur if the weld fails to hold.
Although it can be a dangerous situation, Toyota is unaware of any accidents or injuries related to the bad weld.
Toyota hasn't release additional information and the National Highway Traffic Safety Administration hasn't said when the FJ Cruiser recall will begin.
With questions, owners of the 2014 Toyota FJ Cruiser can contact Toyota at 800-331-4331.