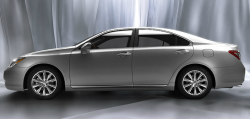 — For the second time in four months, the National Highway Traffic Safety Administration (NHTSA) has denied a petition to open a formal investigation into Toyota alleged unintended acceleration events.
A California man filed the petition after a crash that involved his wife in a 2009 Lexus ES 350 that allegedly was caused by an unintended acceleration incident. The petitioner further said he was aware of similar incidents in a 2010 Toyota Corolla and a 2009 Toyota Camry.
The man, Gopal Raghavan, who has a Ph.D. in electrical engineering, said his wife was pulling into a parking spot when the Lexus accelerated suddenly and crashed into large bushes.
The petition says Lexus investigated the event data recorder and found nothing to indicate a defect in the car. However, Mr. Raghavan says the data recorder shows the RPMs doubled even though the gas pedal wasn't pressed. The recorder also shows the brake pedal wasn't touched during the event.
Mr. Raghavan says his professional opinion is the accelerator is either calculating an incorrect accelerator value or receiving a noise spike on the accelerator sensor.
In denying the petition, NHTSA said allegations concerning the crashes are based upon misconceptions about the manner in which the data recorder works in pre-crash data in the Lexus ES 350, Toyota Corolla and Toyota Camry vehicles. In each of the three crashes, the vehicles accelerated as the drivers were attempting to park the vehicles.
The safety agency said all the evidence points to a driver applying the gas pedal instead of the brake pedal when parking the vehicle.
NHTSA said previous studies have not reached any conclusions other than pedal misapplication. Additionally, NHTSA said the event data recorders in the three subject Toyota and Lexus vehicles indicated no braking was recorded in two of the crash events until the data recorder trigger point, and in the third crash no braking was recorded at all.
The government says considering agency priorities and resources, and the slim chance an investigation would find a defect, the petition is denied and no investigation is required.
In May 2015, the government decided against opening an investigation into 1.7 million Toyota Corolla cars. NHTSA said most of the Corolla complaints about unintended acceleration were caused by the gas pedal being pushed instead of the brake pedal.
Read complaints about the Toyota and Lexus cars named in the petition: