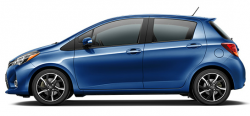 — Toyota has ordered two recalls involving 250 vehicles, 20 of those located only in Puerto Rico. Toyota says those 20 vehicles are the 2015 Tacoma TRD Pro pickup trucks that have the wrong tire size and air pressure information.
The automaker says dealers in Puerto Rico received the trucks directly from Toyota, but a manufacturing error caused the wrong B-pillar tire placard to be used in the trucks.
The remaining recalled 230 cars are model year 2015 Toyota Yaris hatchbacks with rear axle bearing bolts that might not have been tightened enough during assembly. Toyota says a wheel could lock if the bolt falls off and damages the rear brake components.
Toyota says it's unaware of any accidents or injuries related to either defect.
The automaker hasn't released additional details about the recalls and the National Highway Traffic Safety Administration hasn't said when the recalls will begin.
Owners of the 2015 Tacoma TRD Pro and 2015 Toyota Yaris should watch their mail. Until then, with questions or concerns contact Toyota at 800-331-4331.
Thinking about buying a Toyota Tacoma or Toyota Yaris? Read what people say about the Tacoma and Yaris, or file your own complaint.