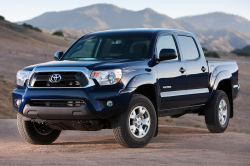 — Toyota Tacoma rattling noise problems will be tackled by Toyota as the automaker announced "special service campaign" F0U, which Toyota says is not a recall but instead a warranty enhancement.
The campaign was issued specifically to "enhance" warranty coverage for exhaust pipe replacement and catalytic converters.
The trucks included in the campaign are 170,000 model year 2010-2014 Toyota Tacoma trucks equipped with 2TR-FE engines.
Toyota says the Tacoma trucks have components in the front catalytic converter that can fall apart and start to rattle. Consumers often describe a rattling sound coming from the truck, but many owners have trouble knowing exactly where the rattle originates.
The automaker says if the condition continues without repairs, the deteriorated components could dislodge and block the flow of the exhaust. A driver will likely see a "check engine" warning light and feel power reduced if exhaust flow problems occur.
If a reduction in power occurs, Toyota says the truck should be stopped and the next thing to do is contact a dealer. Continued driving will only cause damage to additional components.
Toyota says a new exhaust pipe has been designed with catalytic converters to fix the problems.
Tacoma owners have complained to CarComplaints.com about the exhaust and catalytic converter rattling sounds.
"The motor sounds like an exhaust leak of some sort. I checked all exhaust connection and could not locate any leaks. It sounds similar to a deck of cards being fluttered when you accelerate in the first two or three gears. Like a clatter noise. Oh and did I mention that this truck is brand new with 1500 miles." - 2010 Toyota Tacoma owner / Vermilion, Ohio
"Started to hear a rattling when turning the steering wheel left at very low speeds. Took to dealership and the internal brick of the catalytic converter had dislodged from the housing. Was replaced under extended warranty." - 2011 Toyota Tacoma owner / Las Vegas, Nevada
It should take about 2 hours to make the necessary repairs and if a Tacoma owner has already paid to have the problem repaired, Toyota will reimburse the expense.
Owners of the 2010-2014 Toyota Tacoma can contact the automaker at 888-270-9371.
Read owner-reported complaints about the 2010 Toyota Tacoma, 2011 Toyota Tacoma, 2012 Toyota Tacoma, 2013 Toyota Tacoma and the 2014 Toyota Tacoma.