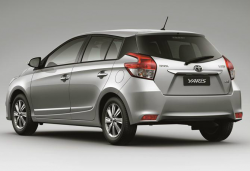 — If you know someone in Puerto Rico who owns a 2012-2015 Toyota Yaris, you might want to contact them and tell them to watch their head while driving, along with watching the headliner of the Yaris.
Toyota is recalling 16,600 of those hatchbacks in Puerto Rico because the wrong headliners were installed in the cars. Toyota hasn't said what could happen with the wrong headliners other than they don't meet federal safety standards and could cause problems in a crash.
Toyota says it isn't aware of any accidents or injuries related to the defective headliners but all the headliners will need to be replaced.
The automaker hasn't said when the recall will begin. If you live in Puerto Rico and own one of the recalled 2012-2015 Toyota Yaris hatchbacks, call the automaker at 800-331-4331 if you have questions or concerns.
This is the second recall in less than three weeks for the 2015 Toyota Yaris. A February recall involved 230 Yaris hatchbacks that have problems with wheels that can lock in place.