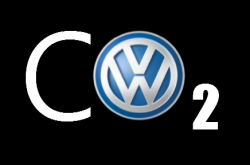 — A Volkswagen CO2 emissions scandal has caused VW to take another step over the cliff of insanity with the admission 800,000 vehicles were sold with incorrect carbon dioxide (CO2) emissions readings.
Volkswagen says with CO2 at the heart of the problem this time, any changes to CO2 readings will be directly tied to a vehicle's fuel economy. Although most of the models have diesel engines, VW says the CO2 problem involves some 1.4-liter gas engines with a cylinder-deactivation tool installed to save fuel.
VW's disclosure arrived one day after the Environmental Protection Agency sent a second notice of clean air violations to the automaker, a charge VW quickly denied. The second notice included additional Audi vehicles and for the first time, Porsche was thrown into the action.
That notice, as the first notice of violation, involved vehicles that tested too high for nitrogen oxides. However, the first violation targeted Volkswagen for vehicles that emit up to 40 times the legal standard, whereas the second notice said nitrogen oxide levels were nine times above standards.
Already facing billions in penalties in the U.S. alone, VW will now be looking at the cost for overstating fuel economy estimates on the 800,000 cars. VW says none of the 800,000 vehicles are located in the U.S., but the automaker didn't say which countries are affected. Additionally, VW didn't mention which models are involved.
The automaker estimates this latest revelation will cost at least $2.2 billion, but it's not clear what other actions VW could face. That's in addition to what Volkswagen has on its plate in the way of 350 lawsuits, numerous actions taken by various governments, millions of cars that will be recalled and premature deaths caused by increased emissions.
Authorities will have many questions for VW concerning when the automaker first knew the CO2 emissions levels were set too low, who knew and what caused the inaccurate estimates.
In addition, VW hasn't said how much the knowledge of increased CO2 levels will lower gas mileage estimates or what can be done to rectify the problems.