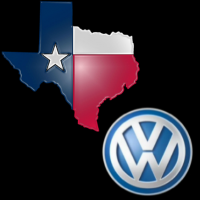 — The state of Texas isn't happy with Volkswagen and its emissions problems and the Texas court system is an example of that unhappiness.
Leading off the legal battle is Harris County, Texas, which filed suit against Volkswagen and Audi for $100 million. Harris County alleges about 6,000 VW diesel vehicles have been in the area since 2009 spewing harmful nitrogen oxide emissions.
But it looks like Harris County is only the beginning as more counties, and even the entire state of Texas, sue Volkswagen into oblivion.
State of Texas
Texas Attorney General Ken Paxton filed lawsuits against VW and Audi on behalf of all Texas consumers who have been harmed by VW diesel models equipped with emissions defeat devices. One lawsuit was filed over violations of state consumer protection laws, and a separate suit charges VW with violating Texas clean air standards.
Paxton says the state wants restitution, an injunction banning VW and Audi from breaking the law in the future and civil penalties to punish VW for its actions.
Texas estimates there are 32,000 Volkswagen diesel vehicles in the state along with 49 authorized VW car dealerships.
Although the lawsuits were filed on behalf of Texas consumers, it's possible those consumers, including VW owners, won't see money in their bank accounts. If the state wins in court, any money based on the civil suit would go into the Texas general fund, while money collected from the other case would go to the judicial fund of the Texas Supreme Court.
San Antonio, Texas
San Antonio has hopped on the Volkswagen emissions lawsuit wagon for violations of Texas nitrogen oxide emissions standards. VW could rack up severe penalties based on the Texas Health and Safety Code, penalties ranging from $50 to $25,000 per day for every violation going back to 2009.
The argument of the lawsuit is simple. Excess nitrogen oxide emissions not only broke Texas environmental laws but also harmed, and continues to harm the health of San Antonio residents.
The lawsuit filed on behalf of San Antonio is titled Bexar County, Texas and The State of Texas, acting on Behalf of the Texas Commission on Environmental Quality (a Necessary and Indispensable Party) vs. Volkswagen Group of America Inc. and Audi of America, LLC.
El Paso, Texas
Volkswagen and Audi will also hear from El Paso County for violations of the Texas Water Code that could cost VW $50 to $25,000 in daily fines. The fines could accrue for each day since 2009 the VW diesel vehicles were emitting illegal nitrogen oxides.
Smith County, Texas
VW will need to add another Texas civil suit to its agenda as Smith County gave a thumbs up to a lawsuit for monetary damages. The emissions lawsuit will specifically seek attorney's fees, civil penalties and injunctive relief for violating Texas environmental regulations.
As with other government lawsuits, any monetary damages would be sent into the state's general fund.
Although the state of Texas has sued VW, counties have the benefit of filing their own lawsuits. With millions of dollars at stake, any awarded monetary damages under the state lawsuit would go to the state. However, monetary damages awarded in a county suit will go to the state and to that specific county.