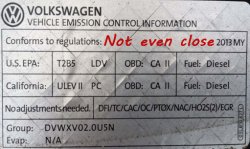 — While Volkswagen continues to make U.S. owners of diesel vehicles wait for repairs to the emission systems of the cars, the automaker will try to pacify drivers with free money and towing.
Volkswagen said it will provide a $500 prepaid Visa card to U.S. owners and lessees of 2-liter diesel models affected by emissions defeat devices. The card can be used for anything a customer can buy with a prepaid Visa card.
An additional $500 card will go toward purchases at VW dealerships, and the automaker is also throwing in free 24-hour roadside assistance for a period of three years. The $500 dealership card can only be used at participating Volkswagen of America dealerships and both cards expire one year after registration of the cards.
Calling it a "goodwill package," VW hopes this is the first step in regaining the trust of its customers. The automaker can use any help it can get because according to Kelley Blue Book values, average resale prices of VW cars with 2-liter diesel engines have dropped over 13 percent since the scandal erupted.
Owners of the following 2-liter diesel models qualify for the goodwill package:
2009–2015 VW Jetta
2009–2015 VW Beetle
2009–2015 Audi A3
2009–2015 VW Golf
2014–2015 VW Passat
Although defeat devices were allegedly installed on some 3-liter VW engines, the offer applies only to 2-liter models.
While owners thought VW might throw them money as a way to keep their business, those same owners were leery of small print included in any offer, especially concerning legal matters. However, Volkswagen says accepting the financial offer will not waive the right to sue the automaker.
How to Apply for Volkswagen's Prepaid Card Offer
VW says there are procedures that must be followed to receive the offer.
For the prepaid Visa card and dealership card, all owners must register on vwdieselinfo.com and wait up to four weeks for the two cars to arrive in the mail. After that, an owner must take the "goodwill package," the affected vehicle, driver's license and proof of vehicle ownership to a Volkswagen dealer to activate the cards.
The 24-hour roadside assistance offer is associated with your vehicle identification number. If you have current coverage with VW, the additional coverage will begin when your existing coverage expires.
For vehicles not currently covered by Volkswagen, the towing coverage will begin when you register the cards at a dealership.
The $1000 offer is in addition to the $2000 VW owners can receive to trade their cars in for new vehicles.
"Insultingly Inadequate"
Democratic Senators Richard Blumenthal and Edward Markey called the prepaid cards and roadside service "insultingly inadequate" and only something the automaker is doing to hide its deceptions.
Blumenthal and Markey said if VW wants to do the right thing, the automaker should offer every owner a buy-back option and do it without taking away the option for the owner to sue.
For their part, VW owners will have to decide if paying up to $5000 more for a clean diesel engine was worth getting a $500 prepaid card and free towing.