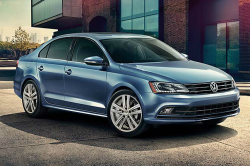 — Volkswagen is recalling almost 1,000 cars to fix problems with the front passenger occupant detection systems. Considering VW just learned it will need to recall 8.5 million diesel cars outside the U.S., the occupant detection recall should be a breeze.
Volkswagen says the recalled cars are the 2015 Golf, e-Golf and VW Jetta, all which experienced problems during manufacturing.
Volkswagen says the passenger occupant detection system detects and then classifies occupants in the front passenger seat. The defect is caused by an electromagnetic coil inside the control module for the detection system.
VW engineers found insulation problems between the layers of the coil which can cause the coil to change over time. This can cause the occupant detection system to fail completely, or the system might keep working but misidentify an occupant in the passenger seat.
An adult in the seat could wrongly be interpreted to be a child and cause the airbag to fail to deploy, or deploy without enough force to protect the adult in the seat.
Volkswagen says if the problem occurs, either an airbag monitoring light will activate or the occupant will see an indicator that says, "Passenger Airbag OFF."
The automaker says it is unaware of any accidents or injuries related to the defect.
Documents filed with the National Highway Traffic Safety Administration say the 2015 VW Jetta cars were manufactured September 8, 2014, to November 28, 2014, the 2015 Golfs were built April 2, 2014, to December 3, 2014, and the 2015 VW e-Golf cars were manufactured July 26, 2014, to October 18, 2014.
The recall will begin in November 2015. Volkswagen dealers will replace the passenger occupant detection system, but owners with questions can contact VW customer service at 800-893-5298 and give them recall number 69L6.
Read complaints about the Volkswagen Golf, Volkswagen e-Golf and Volkswagen Jetta.