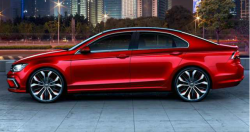 — While Volkswagen's emissions disaster threatens to consume the automaker into a black hole of lawsuits and penalties, VW cars still have other parts that can break down.
A recall of nearly 92,000 cars is proof of that, as VW recalls the 2015-2016 Volkswagen Jetta, Beetle, Beetle Convertible, Passat, Golf GTI and Golf SportWagen. The automaker says the camshaft lobe that drives the brake vacuum pump can break off and cause a loss of brake assist.
VW blames the problem on a high load on the cam that drives the fuel injection and vacuum pump that can cause the camshaft lobe to break off from the camshaft. If that occurs, vacuum pump power will be lost and won't power the brake booster. The car will go into "limp home mode" and cause the warning light to illuminate while the car slowly moves along.
However, the real danger is a driver suddenly losing brake assist once the vacuum reserve has been drained.
Volkswagen doesn't know when the recall will begin because the automaker has no idea how to fix the problem. Affected owners should receive a letter by December 22, 2015, describing the problem and informing owners a second letter will be sent once the recall begins.
VW doesn't expect any repairs to be made before March 2016.
Owners of the recalled cars can contact Volkswagen customer service at 800-822-8987 and give them recall number 23R1.
CarComplaints.com has complaints you can read below about the VW cars named in the recall: