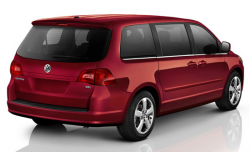 — Volkswagen is recalling 20,676 model year 2009-2010 Routan minivans to replace defective ignition switches that can get you killed.
VW is warning Routan owners to remove all items from the ignition key, including any key chains and key fobs. As with millions of cars recalled by General Motors and other automakers, Volkswagen says a simple bump in the road can turn off the ignition, which means a dead engine.
The sudden loss of engine power, power steering and power brakes can easily cause an accident. But because the ignition is off, the airbags will not deploy in a crash.
The recalled 2009 Routan minivans were manufactured June 25, 2008, to June 10, 2009, and the 2010 Routan minivans were built October 1, 2009, to August 11, 2010.
Defective ignition switches in Routan minivans is an ongoing problem for VW. The 2010 VW Routan was recalled in early 2011 after Chrysler, the company who built the Routan, told Volkswagen the ignition switch in the Routan was the same switch used in Chrysler Town and Country, Dodge Journey and Dodge Grand Caravan vehicles.
Then in 2014, the VW Routan was again recalled for the same ignition switch defects.
Owners who already had their ignition switches replaced in an earlier VW recall won't have to go through the process again. However, Routan owners who previously received only an ignition switch trim ring, you'll have to take your minivans to a dealer for a complete replacement of the ignition switch.
The recall for the 2009 VW Routan should begin in April 2015. The 2010 Routan recall won't begin until August 2015. VW dealers will replace the ignition switch and key fobs for each Routan.
Frustrated Routan owners can contact Volkswagen customer service at 800-822-8987 and give them recall number 28H1.