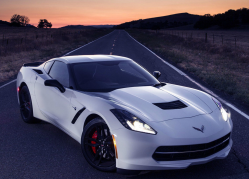 — A 2015 Chevy Corvette lawsuit has been filed by a Texas man alleging his Chevrolet Corvette was loaded with defects from the get-go.
Plaintiff Shane Pryor says he bought the new 2015 Chevy Corvette on June 2, 2015, and from the start the car wasn't right. After paying $76,000 for the sports car, the plaintiff says he began experiencing problems with the Corvette including failure to start, loud rattling sounds, stalling, problems with the GPS navigation system and problems with the electrical system.
Pryor says within the first year, the Corvette was repaired under warranty at least six times and spent about 50 days sitting in the repair shop. The lawsuit alleges even after numerous repairs, problems continued with water leaks and damage to the electrical wiring.
The plaintiff says all the problems and time in the shop impaired the use, value and safety of the 2015 Corvette. In addition, Mr Pryor says even after the numerous problems and trips to dealers, GM refused to buy back the Corvette, yet has failed to properly fix the car.
The lawsuit alleges by failing to properly repair the Corvette, GM has failed to bring the car into conformity with warranties.
The 2015 Chevy Corvette lawsuit alleges violations of the Magnuson-Moss Warranty Act, the Texas Deceptive Trade Practices Act, breach of express and implied warranties, breach of contract, negligent repair and economic and actual damages.
The 2015 Chevrolet Corvette lawsuit was filed in the U.S. District Court of the Northern District of Texas, Fort Worth Division - Shane Pryor vs. General Motors, LLC.
The plaintiff is represented by the Patrick Law Firm, P.C.
The Chevrolet Corvette has been the target of other lawsuits, specifically concerning cars equipped with LS7 7.0L V8 engines.