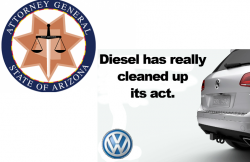 — Arizona Attorney General Mark Brnovich has filed a lawsuit against Volkswagen accusing the automaker of consumer fraud for selling Arizona residents defective vehicles for at least seven years.
Arizona joins a long line of governments that have taken action against VW, including Kentucky, New Mexico, Texas and New Jersey. Then there are the federal lawsuits, including from the Federal Trade Commission and the U.S. Department of Justice.
Saying its citizens have been "effectively duped" into buying so-called clean diesel cars, Arizona officials took action after estimating consumers paid anywhere from $1,000 to $7,000 more than for comparable vehicles.
Arizona officials know Volkswagen isn't disputing it scammed the population by marketing and selling diesel vehicles allegedly good for the environment, when in fact those vehicles were polluting the environment.
The cars are equipped with illegal software that fools emissions testing machines, then once the tests are concluded the vehicles immediately reset the emissions controls. The illegal software, called a defeat device, causes machines to read nitrogen oxide emissions as within legal limits. However, the vehicles emit nitrogen oxides up to 40 times above legal standards as soon as they are out of the lab.
Although some states are working together as one against VW, Brnovich says he should be able to get more money from the automaker by going it alone. Volkswagen could face a penalty of $40 million from the state, and that's before any payments to consumers. In addition, false advertising laws for the state could mean separate penalties for every "clean diesel" advertisement for the past seven years.
The lawsuit alleges the VW diesel vehicles aren't getting the fuel economy they were promised due to the illegal software altering the emissions. Further, the lawsuit alleges the diesel cars have a diminished value and don't have the power VW advertised.
The lawsuit was filed in Maricopa County Superior Court against Volkswagen, Audi, and Porsche and seeks restitution and damages for Arizona consumers as well as civil penalties against Volkswagen.