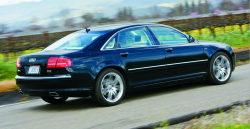 — Volkswagen is recalling about 6,530 Audi cars and VW minivans in two recalls involving detached sunroofs and exploding gas tanks.
Audi A8 and S8 Recall
Audi says about 530 model year 2007-2009 Audi A8 and S8 cars are recalled because the glass in the sunroofs can detach and go flying away from the cars.
The Audi A8 and S8 cars are equipped with sunroofs from a supplier that had changed from a 2-component cleaning process to a 1-component cleaning process, causing a delaminating from the sunroof frame. Over time the adhesive can delaminate from the glass, resulting in glass separating from the sunroof frame.
Drivers traveling behind the Audi will be in for a surprise to see an entire glass sunroof flying their direction.
The recall should begin at some point in July 2016. Audi dealers will install additional adhesive between the sunroof glass and the sunroof frame.
Owners of the recalled 2007-2009 Audi A8 and S8 vehicles may contact the automaker at 800-253-2834 and use recall number 60C3.
Volkswagen Touran Recall
About 6,000 Volkswagen Touran vehicles are recalled worldwide to replace gas tanks that can explode due to corrosion. The 2006-2009 Touran minivans have front compressed natural gas bottles that can burst.
The automaker says the minivans should be driven using only gasoline until the vehicles can be repaired.
VW didn't say where the minivans are located other than about 3,800 that are located in Germany.
CarComplaints.com has owner-reported complaints about the Audi and Volkswagen vehicles named in the recalls: