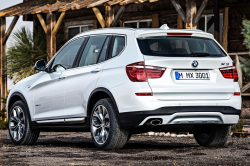 — BMW is recalling more vehicles because of Takata airbag problems, but the recall isn't related to problems that caused the recalls of millions of vehicles from multiple manufacturers.
BMW says 4,000 vehicles need repaired in the U.S. and Canada because the Takata driver-side frontal airbag inflator can separate from the plate that holds it. The automaker says the following SUVs are recalled, all equipped with Takata PSDI-X airbag inflators.
2015 BMW X3 sDrive28i, X3 xDrive28i, X3 xDrive35i, X3 xDrive28d
2015 BMW X4 xDrive28i, X4 xDrive35i
2014-2015 BMW X5 xDrive35i, X5 sDrive35i, X5 xDrive50i, X5 xDrive35d
On August 15, 2016, BMW was notified of a front-end crash in Georgia involving a 2014 BMW X5 that occurred on July 22, 2016, causing the deployment of the Takata driver's frontal airbag.
Investigators noticed what they called "unusual damage" to the interior of the SUV, resulting in an examination that indicated the airbag inflator cap had separated from the base plate.
BMW met with representatives from Takata and the National Highway Traffic Safety Administration to determine the root cause of the airbag problems. Takata said records showed a possible problem with the supplier concerning the welding process used for the inflator, and further information was gathered to prove the inflator wasn't welded correctly.
The bad weld can cause the airbag inflator to separate from the base plate and send metal shooting through the airbag cushion material, a dangerous condition that could cause death or serious injuries. However, BMW says it is unaware of any accidents or injuries related to the airbag inflators.
BMW says testing continues on the airbag inflators and replacement airbag parts aren't available, so customers should ask for a loaner vehicle if needed.
The recall is expected to begin November 11, 2016, but with questions, owners should call BMW at 800-525-7417.