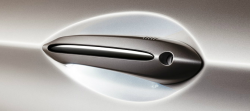 — A BMW soft close automatic door lawsuit alleges the "soft close" systems are defective and cause injuries to fingers and other body parts that get caught in the doors.
Plaintiff Avi Azoulai says he leased a 2014 BMW 750Li with soft close automatic doors and ended up with his right index finger crushed when it was caught in a door.
Azoulai says his injury occurred because the system lacks sensors to detect if fingers or other objects will be harmed by a closing door. The plaintiff says basic safeguards aren't in place to protect people from injuries like he allegedly received.
BMW describes the soft close automatic doors as a feature that ensures the doors are securely closed with a minimum of effort and noise.
"In tight parking spaces or whenever a gentle closing of the door is appreciated, soft close automatic provides a helping hand: simply push the door until it is almost closed. When the door is within approximately 6 mm of the lock, a sensor activates an electric motor that pulls the door firmly and quietly closed and secures it. The soft close automatic process is also run whenever the door is manually closed, to ensure the door is properly shut." - BMW
The soft close automatic door lawsuit says the following vehicles are affected:
2002-2016 BMW 7 Series
2004-2016 BMW 6 Series
2008-2016 BMW X5
2009-2016 BMW X6
2010-2016 BMW 5 Series Gran Turismo
2011-2016 BMW 5 Series
2013-2016 BMW 6 Series Gran Coupe
BMW allegedly knew about the soft close automatic door problems since at least 2002, but even with owners complaining, the automaker didn't admit the feature was dangerous.
The plaintiff says every affected BMW owner should receive at least $1,000 for driving cars with defective doors.
According to the complaint, BMW violated the Magnuson-Moss Warranty Act, Song-Beverly Consumer Act, breached warranty laws and violated consumer protection laws.
BMW responded to the lawsuit by saying the feature does what it's advertised to do, works as intended and is no more dangerous than traditional car doors.
The automaker also says the plaintiffs don't have standing to bring the lawsuit because owners don't claim they were harmed by the soft close doors. However, the plaintiff says every owner has been harmed because of driving a defective vehicle.
The plaintiff also claims every owner has been harmed financially because the vehicles are not worth as much due to the soft close automatic door problems.
The BMW soft close automatic door lawsuit was filed in the U.S. District Court for the Northern District of California - Azoulai v. BMW of North America LLC.
Azoulai is represented by the Margarian Law Firm.