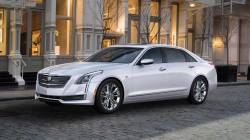 — General Motors is recalling 131 model year 2016 Cadillac CT6 cars to fix problems with the front passenger seat belts.
GM says the CT6 cars have bolts that connect the front passenger seat belt webbing to the anchor plates of the seats, or at least the bolts are supposed to be there.
The automaker says those bolts may be missing, which means the seat belt webbing can detach from the seat anchors. Those missing bolts can cause the seat belt to fail to properly restrain a passenger in a crash.
General Motors says the 2016 Cadillac CT6 cars were manufactured July 21, 2016, to July 22, 2016.
Cadillac CT6 owners should have received recall notices by now with instructions to take the cars to dealers to have the existing front passenger seat belt webbing anchor bolts replaced, or if the bolts are missing, new bolts will be installed.
GM says a passenger should not sit in the seat until repairs are made.
Cadillac CT6 owners may contact Cadillac at 800-458-8006 and use recall number 16035.
CarComplaints.com has complaints you can read about the Cadillac CT6 and other Cadillac vehicles.