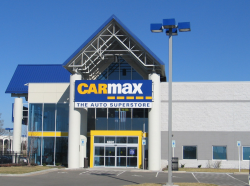 — CarMax and two large auto dealerships have agreed to settle Federal Trade Commission (FTC) charges that accuse the companies of bragging how their used cars are safe without informing consumers about cars with open (unrepaired) recalls.
The FTC charges stem from the companies heavily marketing how their used cars passed stringent safety inspections, leading consumers to believe the cars are safe. Federal investigators found many cars had been recalled but never repaired, something the companies should have mentioned when marketing and selling the vehicles.
In August 2014, the Center for Auto Safety, Consumers Union and nine other organizations accused CarMax of selling defective used cars, so a petition was filed with the Federal Trade Commission.
CarMax says the current recall system does not give used car dealers like CarMax the authority to perform recall repairs. CarMax also argued manufacturers do not grant independent auto dealers like CarMax access to internal databases in order to search a manufacturer's website.
The petition admits CarMax can't make the repairs, but CarMax can take any recalled car to an authorized dealer to make free repairs before selling the car. As for not having access to internal auto databases, the petition says the National Highway Traffic Safety Administration gives car dealers the ability to check the safety status of any used car.
The FTC complaint against CarMax was filed because of how CarMax advertises a thorough used car inspection process, specifically a "125+ Point Inspection" each used car endures before it can be for sale. CarMax says each vehicle goes through an average of "12 hours of renewing – sandwiched between two meticulous inspections."
The FTC says CarMax TV commercials do include a message in small print at the bottom of the screen that says, "Some CarMax vehicles are subject to open safety recalls." But the FTC says the message in tiny print appears for only three seconds, while the rest of the screen is full of the benefits of buying a used car from CarMax.
Federal investigators say that little three-second message isn't enough to adequately warn consumers that some of the cars have open recalls.
In addition to CarMax, Georgia-based Asbury Automotive Group, which also does business as Coggin Automotive Group and Crown Automotive Group, sold recalled cars while making claims such as: "Every Coggin Certified used car or truck has undergone a 150 point bumper-to-bumper inspection by Certified mechanics. We find and fix problems – from bulbs to brakes – before offering a vehicle for sale."
The FTC says one car was sold with a defect that could cause a gas leak and the engine to stall, and another car was sold with a defect that could cause the vehicle to move in "an unexpected or unintended direction."
The FTC's complaint against the other dealership involves the West-Herr Automotive Group, the largest auto group in New York. The FTC charge alleges the dealership marketed a "rigorous multi-point inspection with our factory trained technicians." But just like the other dealership, West-Herr was selling those cars with open recalls involving dangerous safety defects.
The FTC says the CarMax case is similar to what occurred when General Motors was slapped with a 20-year consent order over claims that GM and two large dealerships sold "certified" used cars with deadly safety defects. GM and the two dealerships, Jim Koons Management and Lithia Motors Inc., agreed to settle the FTC complaints after admitting they marketed and sold cars with open recalls.
GM advertised the safety and security of buying a "Certified Pre-Owned Vehicle" that passed a 172-point "vehicle inspection and reconditioning process," even if the cars had serious safety defects.
Some vehicles had been recalled for deadly General Motors ignition switch defects along with other serious problems such as exploding Takata airbags and engine-stall problems.
Under the consent orders, CarMax, Asbury Automotive Group and West-Herr Automotive Group aren't allowed to advertise their vehicles are safe unless the companies clearly disclose any vehicles have open recalls.
In addition to informing future customers about cars with known safety defects under recall, all three companies must contact customers going back to July 1, 2013, and tell those customer their vehicles may have been sold with unrepaired defects.
The FTC says it takes action when it has reason to believe the law has been or is being violated and when federal action is needed to protect the public. Once a consent order is finalized, any future violations can cost a company a civil penalty up to $40,000 per violation.