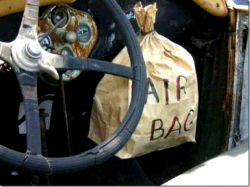 — Latin safety organizations accuse automakers of ignoring the safety of consumers in Latin markets by selling cars without airbags and other safety features, all to keep profit margins high.
Vehicles sold in South America often have no airbags, electronic stability control systems or 3-point seat belts that come standard for consumers in the U.S.
As an example, the best-selling Chevy Aveo recently received a safety rating of "zero" stars by the Latin New Car Assessment Program, an independent organization that also gave the Chevy Sail small car "zero" stars in recent tests.
Safety researchers pointed to the Sail as a safety hazard because it doesn't have airbags and isn't equipped with 3-point seat belts. In addition to the Aveo and Sail, General Motors also received zero stars for the Agile and Chevy Spark, even though the safety requirements are less stringent compared to the U.S.
GM previously said the reason for not including airbag systems was simply a cost issue. By skimping on safety features, a car is cheaper to purchase for low-income consumers. The Sail subcompact car which earned the zero rating is shipped to Latin American consumers from China and sold for less than $10,000.
General Motors isn't the first and only automaker to receive zero stars in the Latin tests, and to its credit GM has pledged to stop manufacturing vehicles without certain safety features, especially airbags.