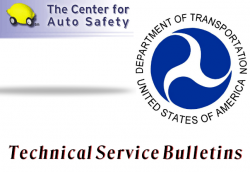 — The Center for Auto Safety (CAS) has filed a lawsuit against U.S. Department of Transportation (DOT) Secretary Anthony Foxx alleging violations of federal law concerning auto safety.
CAS filed the lawsuit after three years of waiting for "technical service bulletins" (TSB) to be publicly posted to DOT websites.
A TSB is sent to a dealership straight from the automaker concerning specific problems and issues with vehicles. The bulletin typically informs the dealer about parts and repair procedures to use if a customer complains about a problem.
While an official recall requires an automaker to notify an owner about a safety defect and available free repairs, most consumers never know about a TSB unless they bring the vehicle to a dealer and complain about a problem. Many serious safety defects that were first addressed by technical service bulletins later became large safety recalls.
Federal safety regulators say they can't publish the entire TSB because of copyright laws. However, safety advocates say many commercial companies sell TSBs to consumers, so if that is not a copyright violation, why would the federal government posting the information for free violate copyright laws?
In addition, safety advocates argue much of the problem simply comes down to pandering to the automakers because car manufacturers save a lot of money when vehicle owners don't know about possible free repairs or warranty extensions.
The issue has gone on since 2012 with the passage of the Moving Ahead for Progress in the 21st Century Act, or MAP-21. The Act specifically says automakers:
"shall give the Secretary of Transportation, and the Secretary shall make available on a publicly accessible Internet website, a true or representative copy of each communication to the manufacturer's dealers or to owners or purchasers of a motor vehicle or replacement equipment produced by the manufacturer about a defect or noncompliance with a motor vehicle safety standard prescribed under this chapter in a vehicle or equipment that is sold or serviced."
CAS says despite the law, the government doesn't provide consumers with "true or representative" copies of communications. To date, when searching the website of the National Highway Traffic Safety Administration for TSB information on a car, a consumer can view only a fraction of the TSB.
For example, searching for information on the 2015 Hyundai Sonata, one TSB on the safety agency website includes only this summary:
"HYUNDAI: AIRBAG CONTROL UNIT (ACU) DOES A SELF DIAGNOSIS WHEN IGNITION IS TURNED ON AND THEN OFF, ILLUMINATING SRS AIRBAG WARNING LIGHT AND IF SUFFICIENT VIBRATION AT TIME OF DIAGNOSTIC PERIOD, SRSCM IS ERRONEOUSLY DETECTED. MODEL 2015 SONATA. *PE"

Next to the summary of the TSB is a box to request additional information. Once the box is clicked, a consumer will be informed of a "standard labor charge of $50.00 per hour for requests involving computer searches, locating and copying documents."
The lawsuit alleges the TSB summary information is not by the book because MAP-21 specifically says a "precise summary of the subject matter" of communications should have a searchable index.
The Center for Auto Safety says the failure to make communications and indexes publicly available online has "deprived the Center for Auto Safety and its members of important information about motor vehicle safety and defects."
The lawsuit says Foxx and DOT have violated the law for three years by not providing detailed TSB information online, including failures to publish the actual bulletins or an index to the bulletins.
"Today the Center for Auto Safety filed suit against DOT Secretary Foxx to force the Secretary to do what the law so clearly requires. This is yet another example of where voluntary and cooperative action by the auto industry so praised by Secretary Foxx fails." - CAS Executive Director Clarence Ditlow
The Center for Auto Safety is represented by Adina Rosenbaum of the Public Citizen Litigation Group.
As noted above, a service bulletin search on the government safety website provides only a few lines of information. Below are three examples of what technical service bulletins look like when sent to dealers.