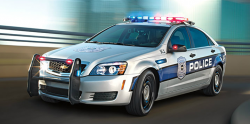 — General Motors is recalling more than 6,200 model year 2014-2016 Chevy Caprice "Police Pursuit Vehicles" after reports of power steering problems.
Not only is this bad news for police departments, but the majority of vehicles used for official purposes typically end up in the hands of consumers for everyday use.
The automaker says the Caprice can lose its power assisted steering, a dangerous thing to occur to a car that is constantly on the roads.
General Motors learned of the problem after reports from the LaGrange, Illinois, police department concerning a loss of power steering in the Caprice police cars.
An internal investigation was opened and an investigator found previous power steering reports about 2014-2016 Chevy Caprice cars. Those reports showed dielectric grease was applied to the torque sensor harness because of corrosion in its connectors, but the process did not provide enough protection against corrosion under the heavy usage schedules for police vehicles.
The problems only occurred to police vehicles based on heavy daily usage, sometimes as much as 20 hours per day.
The recalled Chevrolet Caprice police vehicles were built May 15, 2013, to March 3, 2016.
GM doesn't know when the Caprice recall will begin, but dealers are expected to replace the steering gear assemblies with steering gears that have gold-plated terminals resistant to corrosion.
Owners of the 2014-2016 Chevy Caprice may contact Chevrolet customer service at 800-222-1020 and give them recall number 22010.
CarComplaints.com has owner-reported complaints about the Chevrolet Caprice and many other Chevrolet models.