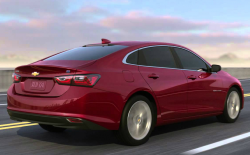 — General Motors is recalling more than 530 model year 2016 Chevrolet Malibu Hybrid cars because they can stall while driving.
In June 2016, a GM manager submitted a safety report concerning a 2016 Chevy Malibu Hybrid equipped with a manual service disconnect (MSD) switch. The MSD switch is a shut-off to the high-voltage battery designed to shut off high-voltage power before working on the car.
The report said the Malibu Hybrid lost power and stalled, causing the automaker to open an internal investigation.
GM determined the MSD switch was disconnected and investigators found if the MSD switch was not properly seated and locked during assembly, it could come loose and disconnect while driving. If the MSD switch disconnects, all high-voltage power to the car is lost and the vehicle will lose propulsion energy and stall.
However, the automaker says the problem does not affect low-voltage, so airbags, pretensioners, gauges and other electronics powered by low-voltage will still work.
The recalled 2016 Chevrolet Malibu Hybrids were built October 27, 2015, to June 3, 2016, and all will need the manual service disconnect switches inspected and corrected.
GM doesn't know when the 2016 Chevy Malibu Hybrid recall will begin, but owners with questions should call 800-222-1020 and use recall number 51230.
CarComplaints.com has owner-reported complaints about many Chevy Malibu cars, including the Malibu Hybrid, Malibu Classic and Malibu Maxx.