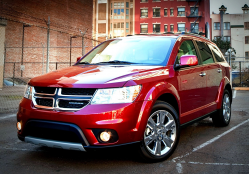 — Fiat Chrysler (FCA US) is recalling more than 198,000 Dodge Journey SUVs in Canada and the U.S. to repair possible power steering fluid leaks.
Affected are 2009-2016 Dodge Journey SUVs equipped with optional block heaters, with nearly 187,500 of the vehicles in Canada and almost 11,000 in the U.S.
Chrysler says an investigation determined power steering fluid lines can leak when the engine is started in cold weather. The automaker says steering will be more difficult but a driver won't lose steering control and no accidents or injuries have been reported.
"This is the fourth time that the vehicle has had a leak in the power steering system. Each time previously I have taken the vehicle in to have it repaired by the dealership and the repairs last between four and six months. This time I will take it in to a commercial repair shop and see if there are higher quality parts that I can have installed." - 2010 Dodge Journey owner / Grande Prairie, Alberta, Canada
Another Canadian owner said their power steering was lost without warning and the resulting power steering line replacement wasn't cheap.
"I bring the car to the dealer and the replacement of the hose cost me $750 CAN. I was very astonished that a 3 years old car had such important cost of replacement. The dealer tell me it happen frequently. Apparently not a good idea to make a recall on that piece, better charge up the customer." - 2012 Dodge Journey owner / Saint-Eustache, Québec, Canada
FCA hasn't released additional information about when the Dodge Journey recall will begin because replacement parts aren't yet available.
If you own a 2009-2016 Dodge Journey and have questions about the recall, call Fiat Chrysler at 800-853-1403.
CarComplaints.com will update this page when details are released by the National Highway Traffic Safety Administration.