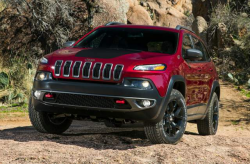 — Fiat Chrysler (FCA US) is recalling about 104 cars and SUVs to fix airbag problems, including 88 model year 2017 Jeep Cherokees with knee airbags that may not deploy correctly.
Chrysler says the driver's side knee airbag problem is caused by improper welds, leaving the airbags unable to protect the driver's knees in a crash.
FCA says dealers will need to replace the driver-side knee airbag modules, something that will begin on November 18, 2016. Owners of the Jeep Cherokee SUVs may call 800-853-1403 and refer to recall number S84.
Dodge Viper Recall
Airbag problems have caused Chrysler to recall 16 Dodge Vipers to keep occupants from being injured by airbag doors and to keep the airbags functioning.
The 2016 Vipers have defective welds on the passenger airbag chutes that can cause the airbag doors to detach when the airbags deploy. Even if the airbag saves you in a crash, the detached airbag door flying around may cause serious harm.
Additionally, Chrysler says 14 of the driver-side airbags will be repaired due to wires that may be pinched and can cause the airbags to fail in a crash.
If you believe you may own one of the recalled cars, call Chrysler at 800-853-1403.