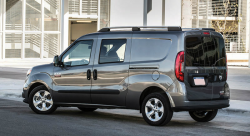 — Fiat Chrysler (FCA US) has trailer light control problems and has ordered one recall involving vans and a separate recall for the trailer tow lights sold separately for the vans.
Chrysler says more than 1,500 model year 2014-2016 RAM ProMaster and 2015-2016 ProMaster City vans have trailer tow lighting control modules with software errors. Those errors can prevent illumination of the trailer brake lights, leaving any vehicles traveling behind to guess what the van is going to do.
FCA investigated possible problems with the lights and determined software changes had been implemented to minimize battery drain. Those software changes caused errors that can cause the trailer tow brake lights to work on first use and fail thereafter.
The recalled 2014-2016 RAM ProMaster vans were manufactured July 24, 2015, to February 15, 2016, and the 2015-2016 ProMaster City vans were built August 15, 2014, to February 1, 2016.
FCA doesn't know when the ProMaster van recall will begin. RAM dealers will replace the trailer tow light control modules to keep the lights working.
Owners may contact Chrysler customer service at 800-853-1403 and give them recall number S22.
Accessory Trailer Tow Light Control Modules
The equipment recall includes about 609 trailer light modules with the part number 68229650AB. The accessory modules were sold specifically for use on RAM ProMaster and ProMaster City vans.
The same software errors that caused the vans to be recalled applies to the recall of 609 accessory trailer light modules.
Chrysler says equipment recall notices will be mailed to owners who may have purchased the Mopar tow kits. Owners who have thrown out money for trailer tow light repairs can be reimbursed by FCA for the expense, as long as repair receipts are provided to the automaker.
Chrysler doesn't know when the accessory module recall will begin, but dealers will need to replace all affected trailer tow light control modules.
Owners with questions should call FCA at 800-853-1403 and use Chrysler's recall number S29.
Update: The original report of 84,000 light modules was incorrect based on information provided by NHTSA. The safety agency has updated its documents with the correct info.