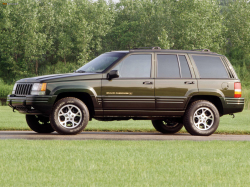 — A Jeep Grand Cherokee gas tank fire lawsuit has been filed by the brother of two people who were killed when their 1995 Grand Cherokee burst into flames from a rear-end impact.
The crash occurred when 56-year-old trucker Vincent Espinvera slammed into a line of vehicles on Interstate 78 in Greenwich Township, Berks County Pennsylvania, killing three people.
Although four people survived, the crash killed Robert Rosner, 52, Edward Dearden, 57, and 54-year-old Theresa Dearden. Espinvera faces a jury trial and three counts each of homicide by vehicle and involuntary manslaughter, two counts of aggravated assault and 17 counts of reckless endangerment.
The 1995 Jeep Grand Cherokee that caught fire wasn't the first vehicle hit by the truck, according to accident investigators. The truck first slammed into the rear-end of Rosner's vehicle, which caught on fire and was lodged on the front of the trailer, causing Rosner to burn to death.
The Rosner vehicle rear-ended another car and that car rear-ended the Jeep Grand Cherokee, which caught on fire and killed Edward and Theresa Dearden.
The lawsuit alleges 1993-1998 Jeep Grand Cherokees are fire traps due to gas tanks that are mounted behind the rear axle. The plaintiff claims the tank can easily leak gas and cause a fire because of a lack of protection behind the gas tank.
According to the plaintiff, Chrysler advertised the Jeeps as "offering extra fuel tank protection in the event of side or rear impacts."
The lawsuit alleges a 2013 recall was ordered by Chrysler on the 1995 Jeep Grand Cherokee, but by that time four years had passed since the National Highway Traffic Safety Administration said the gas tanks had caused at least 56 deaths.
The plaintiff also claims Chrysler failed to let the Deardens know about the recall within 60 days, a violation of federal law. According to the complaint, Chrysler left a message with a family member about the fuel tank defect, but that call didn't come until almost a year after the fatal crash.
For its part, Fiat Chrysler has always maintained the SUVs are safe and passed all required safety tests when the SUVs were manufactured.
In 2015, a Georgia jury award $150 million to the family of a 4-year-old who was killed in a rear-impact crash of a Jeep Grand Cherokee. The child, Remi Walden, burned to death as horrified bystanders could do nothing but watch. The award was later decreased from the original $150 million, but the guilty verdict against Chrysler still stands.