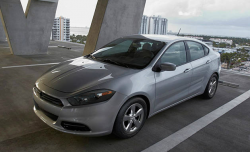 — Fiat Chrysler (FCA US) is recalling over 1,200 vehicles in three recalls, most due to computer-related software issues.
Dodge Dart
Chrysler is recalling 1,200 model year 2016 Dodge Dart cars equipped with 2-liter engines and manual transmissions. In addition, some 2015 Dodge Darts are included if they have the same engines and transmissions and were serviced between September 15, 2015, and January 12, 2016.
Chrysler says the cars have powertrain control modules that are missing a layer of software used as a backup. The powertrain control module monitors the engine torque output, so the missing software could fail to prevent an unauthorized torque event.
The automaker says the safety software device was desensitized during engine calibration development, a process that should be reversed to normal levels before production begins.
When the assembly line began producing the 2016 Dodge Dart, the software remained in a desensitized state, along with the software used for some service repairs on 2015 model years.
FCA says a recall schedule hasn't been set but dealers will update the engine control module software once the recall begins.
Owners of the recalled 2015 and 2016 Dodge Dart cars may contact Chrysler at 800-853-1403 and use recall number S10.
Chrysler 200
A smaller recall will see about 78 Chrysler 200 cars brought back to fix problems with the passenger airbags. The automaker says the recalled 2015 Chrysler 200 cars had either the occupant classification module or the seat cushion foam of the front passenger seat replaced.
Both were supposed to be replaced together because the foam and module are a complete calibrated set. Without both pieces replaced at the same time, the occupant classification system might not be calibrated properly and cause the passenger airbag to improperly deploy and lead to a safety hazard.
Chrysler doesn't know when the recall will begin, but dealers are expected to install new occupant classification module/seat cushion foam seat service kit.
Owners of the recalled Chrysler 200 cars may call Chrysler customer service at 800-853-1403 and use recall number S09.
Ram ProMaster
In an even smaller recall, the automaker is recalling 57 model year 2016 Ram ProMaster vans equipped with 3-liter diesel engines. The electronic stability control system can be disabled by a driver, and if that occurs, the system should reactivate the next time the van is started.
However, that may not happen due to an anti-lock brake system control module that may not reset the stability control feature.
FCA says owners should be watching for recall notices in the mail. Chrysler dealers will update the anti-lock brake system control module software, but with questions owners of the 2016 Ram ProMaster should call 800-853-1403 and use recall number S04.
Have a complaint about your Chrysler car? Add your complaint here, about any vehicle.