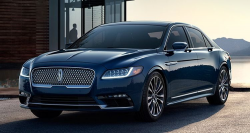 — Ford is recalling nearly 2,000 cars and SUVs in two recalls affecting headlight assemblies and software problems, but the automaker provided limited details about the recalls.
Lincoln Continental Recall
Ford says about 1,876 model year 2017 Lincoln Continental cars are recalled because of problems with the headlight assemblies. The cars have high-intensity discharge (HID) lights that may have been built with the wrong lenses.
Ford says the lenses are missing the lens optics that are required to meet federal standards regarding turn signal visibility.
Ford doesn't know of any accidents or injuries caused by the defect in the 2017 Lincoln Continental cars that were built June 14, 2016, to September 23, 2016.
Ford dealers will inspect the headlights and replace them if needed when the recall begins November 7, 2016.
Lincoln Continental owners may contact the automaker at 866-436-7332 and refer to recall number 16C15.
Ford Edge Recall
Only 58 SUVs are involved, but like many recalls for cars nowadays, the problem is caused by software that controls safety functions of the SUVs.
Ford says the recalled 2015-16 Ford Edge SUVs were brought in for service repairs and were loaded with the wrong anti-lock braking system (ABS) software.
So what can one little software mistake do? According to Ford, a driver may lose these functions:
Electronic stability control
Engine torque control
Traction control (including the warning light)
Electronic parking brake light
Electronic parking brake drive-away release function
The automaker says the parking brake will still work and a driver won't lose anti-lock braking, and no accidents or injuries have been reported related to the software errors.
Ford says the 2015-16 Ford Edge SUVs were built between February 9, 2015, to August 12, 2016, which may have had software programmed during service between August 6, 2016, and September 28, 2016.
There are 53 recalled SUVs in the U.S., three in Canada and two in Mexico.
The recall is expected to begin November 28, 2016. Ford dealers will replace the ABS control module or reprogram the ABS module with updated software.
Ford Edge owners may contact Ford at 866-436-7332 and use recall number 16C14.
Read complaints about Ford Edge SUVs and Lincoln Continental cars.