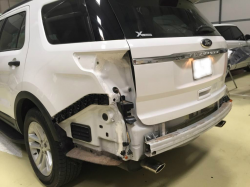 — Ford Explorer exhaust smells will be investigated by the National Highway Traffic Safety Administration (NHTSA) after the agency received 154 complaints about exhaust fumes entering 2011-2015 Ford Explorer SUVs.
Ford owners complain about occupants smelling exhaust fumes and being sickened by carbon monoxide. The Ford Explorer exhaust smells can be so severe owners sell their SUVs to get away from nausea and headaches associated with the odors.
NHTSA says one report indicates a driver crashed their SUV but the incident occurred at slow speed and didn't cause injuries.
Typical complaints say exhaust fumes enter the cabins while the Explorers are operating at full throttle, such as when going uphill or merging onto freeways. Owners of 2011-2015 Ford Explorers also say the fumes can be triggered by turning on the air conditioning in recirculation mode.
Some owners complain using either the air conditioning or heating systems can create exhaust smells in the cabins.
"I bought there [sic] extended Ford Premium Warranty. I notice a bad exhaust odor in the cabin using the AC and the heater at times and had a engine light on the dash that would come and go. Took it to the Ford dealer and they fixed a purge valve sensor to get rid of the engine light. To my surprise they said the exhaust odor in the cabin has a TSB and they would have to charge me $700.00 to fix it. WHAT?" - 2013 Ford Explorer owner / Connersville, Indiana
Ford issued technical service bulletin (TSB) 12-12-4 dated December 10, 2012, that told dealers what to do if a customer complains about smelling exhaust fumes in the cabins. The TSB specified sealing and undercoating of certain areas of the rear floor pan and body seams, replacement of the left-side air extractor and installation of rear lift gate drain valves.
That TSB was then superseded by TSB 14-0130 dated July 22, 2014, which added additional software changes to the recirculation mode of the air conditioning system during full throttle application.
Many owners say the exhaust smells are just as bad as they were before repairs were made by dealers and new Ford Explorer owners haven't been immune to odors that cause repeated trips back to dealerships.
"We bought our new Ford Explorer 3.5 new in September 2013 and straight away there was a very bad smell in the vehicle when accelerating over 3,000 RMP. We took the it back to the Ford dealer and they told us it was because its new. It has since been back 4 times for the same problem and every time we get it back it's just the same. It should come with a health warning, they are worse than cigarettes." - 2013 Ford Explorer owner / Dubai, United Arab Emirates
NHTSA says nearly 639,000 model year 2011-2015 Ford Explorer SUVs are included in the exhaust smell investigation. Safety regulators will determine if the SUVs are a danger to occupants and if a recall should be ordered.
It's likely none of this is a surprise to Ford as the automaker has been hit with class-action lawsuits concerning Ford Explorer exhaust smells. One such action was filed by Florida resident Angela Sanchez-Knutson who claims her 2013 Ford Explorer made her and her 5-year-old daughter sick.
The lawsuit alleges the woman and her daughter were poisoned by carbon monoxide entering the cabin of the Explorer.
CarComplaints.com has complaints about Ford Explorer exhaust system problems: