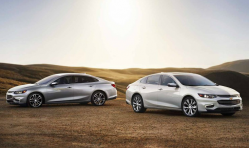 — General Motors is recalling 113 model year 2017 Chevrolet Malibu cars because the right-hand rear side airbag inflator manifolds may have bad welds.
It won't be a pretty sight if the airbag inflator separates and blows airbag debris into Malibu cabins during a crash. Another consequence could be a complete failure of the inflator to deploy the airbag.
GM didn't provide much information about the Malibu recall other than to say dealers will need to replace the rear side airbag modules. However, the automaker doesn't know when the recall will begin.
Owners of the 2017 Chevy Malibus can contact General Motors at 800-222-1020 and ask about recall number 16146.
Read owner-reported complaints sent to CarComplaints.com about Chevy Malibu cars.