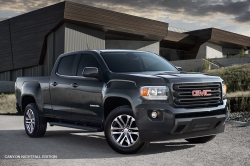 — General Motors is recalling almost 2,000 vehicles in three separate recalls, the vast majority involving trucks and cars with airbag problems.
Chevrolet Colorado, Chevrolet Malibu and GMC Canyon
GM says about 1,750 model year 2016 Chevy Colorado and GMC Canyon trucks, in addition to Chevy Malibu cars, have driver-side frontal airbag problems. That 1,750 includes vehicles in Canada and the U.S., with additional vehicles to be recalled in Mexico.
GM says the airbag may not deploy properly in a crash because the second stage of the inflator may not fill the airbag completely and quickly enough to protect the driver. The automaker hasn't said more about the airbags but did say they weren't manufactured by Takata.
GM also says it has received no reports of injuries related to airbag failures caused by the defect. However, the automaker doesn't know when the recall will begin.
Chevrolet Camaro, Chevrolet Malibu, Chevrolet Silverado and GMC Sierra
Another 139 model year 2016 Chevrolet Camaro, Malibu, Silverado and GMC Sierra vehicles are recalled to fix problems with audible warnings. GM says the radio may fail to provide a warning when the key has been left in the ignition and the door is opened, or when the driver doesn't fasten the seat belt.
The automaker didn't provide many details other than it doesn't know when the recall will begin. General Motors says a simple update of the radio software should fix the problem.
Buick Regal
About 74 model year 2016 Buick Regal midsize cars have a power steering assist system that can fail and cause a loss of power steering.
Manufactured from August 30, 2015, to February 12, 2016, the cars will be difficult to steer if they revert to manual steering while traveling at slow speeds or around a curve.
As seen in the previous recall, GM doesn't know when dealers will begin to make repairs, namely replacing the electric belt drive rack and pinion steering gear assemblies.
With questions concerning any of these recalls, customers should contact Buick at 800-521-7300, Chevrolet customer service at 800-222-1020 or GMC at 800-462-8782.
CarComplaints.com has complaints about the vehicles named in the recalls: