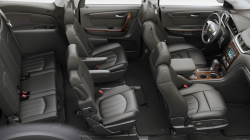 — General Motors is recalling more than 2,600 SUVs because a robotic welder took on a mind of its own. GM says the recalled SUVs include the 2016 Chevrolet Traverse, 2016 GMC Acadia and 2016 Buick Enclave, all with left lower seat frames that may have welds in the wrong location.
The problem was discovered on November 11, 2015, when a Michigan assembly plant worker saw a broken weld where the third-row seat connects to the body of the vehicle. GM credits its "Speak Up For Safety" program for discovering the defect, a program created after GM admitted it spent 10 years selling cars with deadly ignition switches.
To most companies, speaking up about potential safety defects is a common sense idea, but not to GM, at least until recently. Its culture taught employees to keep quiet about a potential problem, especially by banning the use of the word, "problem."
On November 17, a manager reported the issue as a possible safety defect, again through the Speak Up For Safety program. The seat supplier was notified and it was determined a faulty motor in a robotic welder caused the out-of-place welds.
With the welds in the wrong place, the seat frame could cause all kinds of problems in a crash.
The automaker says the recalled Enclave, Traverse and Acadia were manufactured November 6, 2015, to November 12, 2015.
General Motors doesn't know when the recall will begin, but dealers will eventually inspect the seat frame and replace it if necessary.
Owners with questions should call the following numbers:
- 2016 Buick Enclave: 800-521-7300
- 2016 Chevrolet Traverse: 800-222-1020
- 2016 GMC Acadia: 800-462-8782
You can read owner-reported complaints about the SUVs named in the recall by choosing a model below: