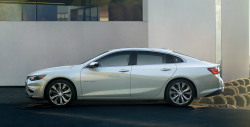 — General Motors has more problems associated with airbag manufacturer Takata, although in different ways than previous issues with exploding airbags.
GM says more than 3,100 model year 2016 Chevrolet Malibu cars have side airbags that can deploy out of position in a crash. Both front and rear side airbags can be affected by weld studs that fracture at the airbag inflator modules.
GM says on February 4, 2016, Takata reported two instances of stud weld fractures of the inflator modules during routine testing. However, these inflators weren't produced by Takata.
The inflator supplier, ARC Automotive, supplied the inflators and welded the studs, then shipped them to Takata. From there, Takata assembled the side airbag modules and provided the module assemblies to the seat assembler.
The first airbag failure occurred on a left front module and the second incident occurred on a front right module. GM opened an investigation and later learned about two more fractured weld studs during seat assembly. A recall was ordered after GM learned of additional airbag module weld failures.
Dealers will replace any affected side airbag modules, including possible combinations of left, right, front and/or rear side airbag modules.
GM doesn't know when the Malibu recall will begin, but owners with questions can call Chevrolet at 800-222-1020 and use recall number 31820.
ARC Automotive is currently under investigation by the National Highway Traffic Safety Administration, but for alleged problems unrelated to fractured airbag module welds. The investigation was opened after reports of ARC airbag inflators exploding and causing serious injuries to occupants in Kia and Chrysler vehicles.
CarComplaints.com has owner-reported complaints about the Chevy Malibu and many other Chevrolet vehicles.