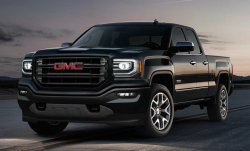 — General Motors is recalling nearly 4,800 new trucks and SUVs because the front upper control arms can detach and cause a loss of steering control. GM says the following trucks and SUVs should not be on the roads until the vehicles are repaired:
2016-2017 Chevrolet Silverado 1500
2016 Chevrolet Tahoe
2016 Chevrolet Suburban
2016 GMC Sierra
2016 GMC Yukon
2016 GMC Yukon XL
2016 Cadillac Escalade
2016 Cadillac Escalade ESV
GM blames the problem on a bad weld near the control arm bushing, a problem the automaker discovered on a GMC Yukon XL Denali. The faulty weld can cause the control arm to change shape and eventually separate.
GM opened an internal investigation and determined the weld can fail at any time and any speed while driving. A driver will have dangerous conditions to handle once the control arm separates, something that could make steering a pain even at slow speeds.
GM says it doesn't know when the recall will begin, but the automaker will mail an interim notice in May 2016 and a second notice will be mailed once parts are available and the recall begins.
GM says it's unaware of any accidents or injuries related to the bad welds, but the problem is a serious one and owners should park the vehicles until the upper control arms are replaced.
The National Highway Traffic Safety Administration hasn't released additional details, but if you own one of the recalled trucks are SUVs, contact your dealer about a loaner vehicle and a tow to the dealership.
Owners with questions should contact Cadillac at 800-458-8006, Chevrolet at 800-222-1020 or GMC at 800-462-8782.
Read complaints submitted to CarComplaints.com about the trucks and SUVs named in the control arm recall: