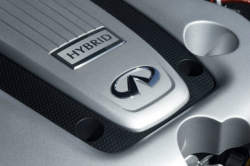 — Nissan is recalling more than 1,100 model year 2012-2013 Infiniti M35 Hybrid cars because the engines can shut off while driving.
In April 2016, Nissan began investigating multiple field reports from overseas involving Infiniti M35 Hybrid cars that were shutting off while people were driving the cars. The automaker then looked at the U.S. market to determine any similar incidents and found just one incident.
At the same time, Nissan confirmed that certain conditions can cause a malfunction in the hybrid cooling system and lead to the engine shutting down. A driver will receive a warning light but if the warning is ignored, the powertrain control module is designed to shut off the engine to prevent engine damage.
Nissan says the warning should be adequate to make sure owners don't keep driving and cause the engine to shut off, but a recall was ordered out of an "abundance of caution."
The automaker says the brake and steering systems keep working even if the engine dies, so a driver should be able to stop the car safely.
The Infiniti M35 Hybrids were built March 23, 2010, to September 9, 2013.
The Infiniti M35 Hybrid recall should begin September 6, 2016, when dealers will reprogram the hybrid control module, the automatic transmission control unit and inverter software.
Owners who have questions should call Nissan customer service at 800-647-7261.