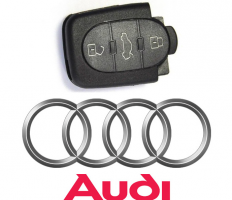 — Security researchers may have finally figured out how thieves have been opening locked car doors by holding small devices in their hands, leaving authorities baffled as to how the doors were unlocked.
Researchers from engineering company Kasper & Oswald and scientists from the University of Birmingham UK released a study that shows a keyless remote control can be cloned for as little as $40.
The team of researchers found two vulnerabilities that can affect 100 million vehicles worldwide, including one vulnerability that could allow a hacker to unlocked just about every Volkswagen Group vehicle made since 1995. In addition, a separate vulnerability could affect millions of cars from numerous automakers, including Ford, Mitsubishi and Nissan.
The study says a simple small radio device can intercept a signal when a person pushes a button on a remote control to unlock a car. A $40 investment can turn into a keyless remote control just like the original remote, and a vehicle owner will have no idea anything has happened until it's too late.
The vulnerability in Volkswagen vehicles is particularly scary because a thief could clone a remote control with one push of a button and have access to the numerous models of VW cars manufactured since 1995, including the following:
Audi A1
Audi Q3
Audi R8
Audi S3
Audi TT and other Audi vehicles with remote control part number 4D0 837 231.
Seat Alhambra
Seat Altea
Seat Arosa
Seat Cordoba
Seat Ibiza
Seat Leon
Seat MII
Seat Toledo
Škoda City Go
Škoda Roomster
Škoda Fabia 1, Fabia 2
Škoda Octavia
Škoda SuperB
Škoda Yeti
Volkswagen Amarok
Volkswagen Beetle
Volkswagen Bora
Volkswagen Caddy
Volkswagen Crafter
Volkswagen e-Up
Volkswagen Eos
Volkswagen Fox
Volkswagen Golf 4, Golf 5, Golf 6, Golf Plus
Volkswagen Jetta
Volkswagen Lupo
Volkswagen Passat
Volkswagen Polo
Volkswagen T4, T5
Volkswagen Scirocco
Volkswagen Sharan
Volkswagen Tiguan
Volkswagen Touran
Volkswagen Up
Other automakers and vehicles are affected by a separate vulnerability that allows a thief to clone a remote control. The research paper listed the following vulnerable vehicles but admitted the list is short compared to the makes and models that would likely be affected.
2010 Alfa Romeo Giulietta
2012 Chevrolet Cruze Hatchback
2009 Citroen Nemo
2012 Dacia Logan II
2016 Fiat Punto
2009 Ford Ka
2009 Lancia Delta
2004 Mitsubishi Colt
2006 Nissan Micra
2008 Opel Vectra
2016 Opel Combo
2010 Peugeot 207
2016 Peugeot Boxer
2011 Renault Clio
2011 Renault Master
The study says automakers have used insecure systems for more than 20 years where even a "smart watch" such as the TI Chronos could do the job and leave no physical trace the remote has been cloned.
The implications of a cloned or hacked remote control are numerous as an alarm system will typically be disarmed before a thief enters the vehicle to steal you blind. In addition, a hacker could enter the vehicle and compromise the computer or enter the vehicle and hide and wait for the driver to return.
Even if the thief doesn't enter the car, an object could be put into a vehicle and the car locked afterward, never leaving a clue the doors were opened. It's even technically possible to eavesdrop the signals of all cars on a parking lot or at a car dealer by placing an eavesdropping device there overnight.
Although the study was conducted outside the U.S., the paper says remote controls operating at 315 MHz for the US market are also vulnerable to attacks.
Furthermore, researchers determined similar cars from different manufacturers have the same problems. For example, some model years of Ford Galaxy have the same flawed system as the VW Sharan and Seat Alhambra.
After studying what is possible with a small handheld device, researchers say a driver shouldn't depend on knowing a vehicle is locked by touching a remote control and hearing a sound or seeing the lights blink. A hacker may have picked up the "lock" signal and created a new "unlock" code, all by standing as far as 320 feet away.
So how do you lock your car when a remote can be turned against you? Researchers suggest the only safe method of locking and unlocking a car is mechanically, by hand. However, even that option may cause trouble because many cars are set up so the alarm will trigger after a period of time if the car doors or the trunk are mechanically opened.
The other main question is whether a driver would know the remote has been cloned. The study authors say possible indicators of tampering include if a vehicle doesn't unlock on the first press of a button or if the remote is completely blocked from working.
Researchers from the University of Birmingham have been a thorn in the side of VW since 2013 when scientists came up with a way to start millions of VW vehicles without using a key. Getting that information to the public was put on hold for two years as lawsuits were filed to keep the vulnerabilities secret.
This time VW was transparent when approached about the keyless remote control issues. The researchers contacted Volkswagen in 2015 about the results of the study and sent the automaker a draft version of the final paper. VW admitted the vulnerabilities exist, and researchers agreed to leave out many technical details about the methods used to clone the systems.
Although nothing is confirmed, scientists believe thieves have been using similar or identical cloning devices for years to break into vehicles by simply unlocking the doors.