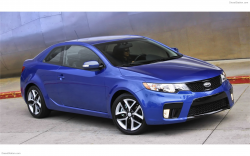 — Kia Motors America is recalling over 10,000 Kia Forte cars for the same problem that caused Hyundai to recall its Tucson SUV days ago.
Both the Kia Forte and Hyundai Tucson use a transmission fluid cooler hose made by a company in Korea called SHB Co., Ltd. Kia says the hose in the Forte may not have been manufactured correctly, something that can cause the transmission fluid to leak.
Kia was notified by the supplier in January 2016 about possible problems with the curing of the hoses during manufacturing. Kia checked warranty claims about transmission fluid hoses and found 107 claims relating to replacement of the automatic transmissions due to a loss of fluid.
Kia ordered the recall once the automaker saw 107 entire transmissions had to be replaced because of a simple hose. Based on reports to date, there have been no accidents or injuries caused by the defective hoses.
The Forte cars were manufactured August 27, 2010, to November 11, 2010.
The Kia Forte transmission fluid cooler hose will be replaced when the recall begins March 30, 2016.
Owners of the recalled 2011 Kia Forte who have questions should call the automaker at 800-333-4542 and give them recall number SC129.
CarComplaints.com has complaints about the 2011 Kia Forte, other model years of Kia Forte cars and many other Kia models.