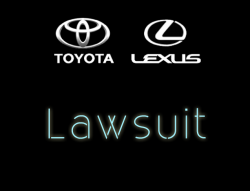 — The owner of a 2011 Lexus ES 350 has filed a proposed class-action lawsuit alleging Toyota ordered a Takata airbag recall without having the replacement parts to fix the cars. The lawsuit also claims Toyota said any repairs could take at least six months to complete, leaving the plaintiff driving a defective dangerous car.
Carole B. Black filed the Toyota/Lexus lawsuit after receiving a Takata airbag recall notice in July 2016 concerning a recall of 1.6 million vehicles announced in May.
Those airbags have caused the recalls of tens of millions of vehicles to replace airbags at risk of exploding and sending hot shrapnel slicing into car occupants. The airbags contain an explosive chemical called ammonium nitrate that can explode with too much force and cause the metal inflators to rupture.
Black says instead of fixing the car or offering a loaner vehicle, Toyota told her to make sure to block anyone from sitting in the front passenger seat. The lawsuit alleges Toyota must be under the false impression that a passenger-side airbag that explodes won't cause harm to people sitting in other areas of the car.
The plaintiff says Toyota treated the problem as a simple inconvenience to owners instead of treating the problem as a deadly threat to car occupants.
Black claims she had a 72-month/70,000-mile warranty when she bought the Lexus and the warranty covered defects related to airbags and seatbelts. The plaintiff also says a loaner vehicle was promised as part of the warranty, but Toyota didn't live up to its word after the airbag recall was announced.
The lawsuit says by not repairing the cars, Toyota is causing owners to lose money due to a depreciation in vehicle value. In addition, owners have been left with the unenviable position of renting cars while the ES 350 cars are parked and waiting for repairs, or owners can choose to drive extremely dangerous cars.
The proposed class-action lawsuit seeks to include all former and current lessees and owners of 2007-2011 Lexus ES 350 cars.
The Toyota airbag lawsuit was filed in the U.S. District Court for the Central District of California - Carole B Black v. Toyota Motor Sales, U.S.A., Inc. et al.
The plaintiff is represented by Shannon A. Lang PLLC.