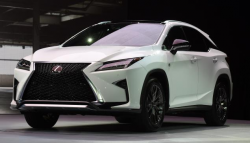 — Lexus is recalling 5,000 brand new crossover SUVs because of knee airbag problems.
Lexus says the affected SUVs are the 2016 Lexus RX 350 and RX 450h with driver-side knee airbags that can fail to inflate because of escaping gas from the airbag inflator.
Lexus says the problem was determined to be caused by a bad weld that can allow the inflator gas to leak out of the inflator. Without gas in the inflator the knee airbag will fail to deploy in a crash.
The recall is expected to begin March 27, 2016. Toyota/Lexus will notify owners, and dealers will inspect and, if necessary, replace the knee air bag assembly.
Owners of the 2016 Lexus RX 350 and RX 450h may contact Lexus customer service at 800-255-3987. Toyota's number for this recall is GLA.