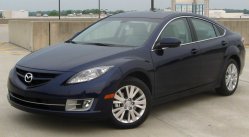 — Mazda is recalling nearly 42,000 model year 2009-2010 Mazda6 cars to fix airbag problems. None of the problems are related to the Takata airbag disaster, but the Mazda recall is related to ongoing problems from airbag manufacturer Continental Automotive Systems.
In 2008, Continental received an airbag control unit that had been removed from a Daimler vehicle after the owner complained about a warning light illuminating. An investigation determined problems existed with a power supply component used to determine if a child or adult is sitting in a seat, and based on that, the airbag will deploy or not deploy in a crash.
In 2011, Continental learned about airbag problems in Daimler and Chrysler vehicles. In March 2013, Continental started a service campaign on certain vehicles outside the U.S., then in April 2015, Honda asked Continental to check an airbag from a 2008 Honda Accord.
In August 2015, the National Highway Traffic Safety Administration opened an investigation into airbags in 384,000 model year 2008 Honda Accords.
By October 2015, Mercedes-Benz had ordered a recall concerning the Continental airbags. Then in February 2016, Honda recalled the Accords.
Now it's Mazda's turn, as the automaker says a protective coating was not applied properly on the power supply circuit which can allow moisture to seep in and cause corrosion and swelling. The corrosion can cause a failure of the airbag control unit and leave a driver looking at a warning light. Mazda says not fixing the problem will cause the airbags to fail in a crash.
The recalled Mazda6 cars were built between February 4, 2008, and December 3, 2009.
The automaker says five million airbags are affected by the problem, with those five million airbags used in vehicles from multiple automakers. This has caused a parts shortage, so Mazda has no idea when replacement airbag control units will be available.
Mazda6 owners will receive an initial recall notice and then when parts are available, another recall letter will be mailed. Mazda will notify its dealers in September 2016, and then will mail the first recall notices to owners in October.
Affected Mazda6 owners may contact Mazda at 800-222-5500 and ask about recall number 9816H.