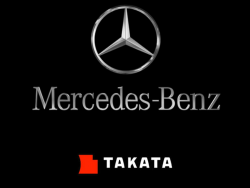 — Mercedes-Benz is recalling nearly 200,000 vehicles to replace Takata airbag inflators that could explode when they deploy in a crash.
The automaker already recalled 711,000 vehicles in February to replace driver-side frontal airbag inflators made by Takata. This latest recall of 200,000 vehicles involves passenger-side inflators only and areas of the country are broken down by "zones."
Mercedes-Benz Takata Airbag Recall (Zone A)
Mercedes-Benz says zone A areas include the following locations:
Alabama, California, Florida, Georgia, Hawaii, Louisiana, Mississippi, South Carolina, Texas, Puerto Rico, American Samoa, Guam, the Northern Mariana Islands (Saipan) and the U.S. Virgin Islands.
Recalled in the above locations are the following Mercedes vehicles if they were originally sold or ever registered in zone A areas:
2008-2011 Mercedes-Benz C300
2008-2011 Mercedes-Benz C300 4Matic
2008-2011 Mercedes-Benz C350
2008-2011 Mercedes-Benz C63 AMG
2010-2011 Mercedes-Benz GLK350
2010-2011 Mercedes-Benz GLK350 4Matic
2010-2011 Mercedes-Benz E350
2011 Mercedes-Benz SLS AMG
2011 Mercedes-Benz E350 Convertible
2011 Mercedes-Benz E550
2011 Mercedes-Benz E550 Convertible
Mercedes-Benz Takata Airbag Recall (Zone B)
The automaker says zone B areas include the following:
Arizona, Arkansas, Delaware, District of Columbia, Illinois, Indiana, Kansas, Kentucky, Maryland, Missouri, Nebraska, Nevada, New Jersey, New Mexico, North Carolina, Ohio, Oklahoma, Pennsylvania, Tennessee, Virginia and West Virginia.
The following Mercedes-Benz vehicles are recalled in zone B areas unless they are included in zone A locations:
2008 Mercedes-Benz C300
2008 Mercedes-Benz C350
2008 Mercedes-Benz C63
2008 Mercedes-Benz C300 4Matic
Mercedes says the passenger frontal airbag modules that contain the metal inflators will be recalled, but the automaker doesn't have the replacement parts and isn't sure when it will have the parts. Mercedes-Benz will send owners interim notification letters in July 2016 and second notifications will be sent when the airbag parts are available.
Owners of the vehicles who have questions should contact Mercedes-Benz at 877-496-3691.