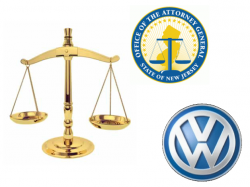 — New Jersey Attorney General John J. Hoffman says the state has filed a lawsuit against Volkswagen alleging "a massive fraud" on New Jersey consumers.
Saying Volkswagen engaged in one of the largest frauds in history for more than 10 years, New Jersey accuses the automaker of cheating official emissions tests.
The two-count complaint alleges VW made a fortune from manufacturing and marketing diesel vehicles allegedly good for the environment, all while in fact the cars are sending harmful nitrogen oxide emissions into the atmosphere.
Saying Volkswagen fraudulently increased its sales and market share "at the expense of the unsuspecting public," the lawsuit says New Jersey residents overpaid for clean diesel vehicles that shouldn't have been certified for sale.
"Our lawsuit alleges that Volkswagen put profit ahead of honesty, integrity, fair business practices and – most disturbing of all – the well-being of people living and breathing the air here in New Jersey and across the country." - Acting Attorney General John Hoffman
According to the lawsuit, Volkswagen committed fraud by selling the following 2-liter diesel vehicles in New Jersey.
2009-2015 VW Jetta
2009-2014 VW Jetta Sportswagen
2012-2015 VW Beetle and Beetle Convertible
2010-2015 VW Golf and Golf Sportswagen
2012-2015 VW Passat
2010-2015 Audi A3
Also included in the suit are the following 3-liter models.
2009-2016 VW Touareg
2013-2016 Porsche Cayenne
2014-2016 Audi A6 Quattro
2014-2016 Audi 7 Quattro
2014-2016 Audi A7 Quattro
2014-2016 Audi A8
2014-2016 Audi A8L
2014-2016 Audi Q5
2009-2016 Audi Q7
While it's estimated over 600,000 VW vehicles in the U.S. are equipped with emissions defeat devices, the lawsuit says about 17,420 vehicles have been registered in New Jersey.
As with hundreds of other lawsuits against Volkswagen, New Jersey says the nitrogen oxide emissions contribute to smog, soot and can cause serious health problems. Nitrogen oxides have been linked to cardiopulmonary disease, lung cancer, chronic obstructive pulmonary disease and making asthma much more difficult to cope with.
The specific charge of violations of the Consumer Fraud Act accuses VW of misleading New Jersey consumers into believing the diesel vehicles were worth the high price because of "clean diesel" technology that wasn't clean. New Jersey also says consumers have been harmed and will continue to be harmed because fixing the cars will make them worth less in value.
Saying New Jersey consumers are now saddled with cars stigmatized by the scandal, the attorney general alleges fixing the cars will reduce the power, economy and fuel mileage of the cars.
The New Jersey lawsuit against VW is only one of hundreds filed by dealers, government authorities and consumers. Other states as a whole have filed suit against the automaker, including New Mexico, that called the VW Jetta a "noxious, regulation-defying impostor."
In Texas, numerous local governments in addition to the state have filed suit for harming the health of Texans.
Then there is the Environmental Protection Agency and U.S. Department of Justice that in theory could nail Volkswagen with fines worth tens of billions of dollars.
Separately, a huge class-action lawsuit targets the VW emissions scam and could include about 600,000 VW owners.