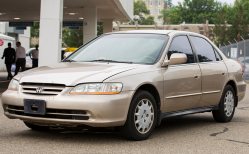 — The National Highway Traffic Safety Administration (NHTSA) has issued a warning to certain Honda and Acura owners to immediately get their Takata airbags repaired or park the vehicles until the airbags are repaired.
NHTSA says based on new tests of Takata airbag inflators, the following 313,000 older vehicles have a 50 percent chance of experiencing ruptures of the inflators during deployment of the airbags:
2001-2002 Honda Civic
2001-2002 Honda Accord
2002-2003 Acura TL
2002 Honda CR-V
2002 Honda Odyssey
2003 Acura CL
2003 Honda Pilot
"Folks should not drive these vehicles unless they are going straight to a dealer to have them repaired immediately, free of charge." - U.S. Transportation Secretary Anthony Foxx
The warning from NHTSA is unusual in its urgency but understandable because the vast majority of airbag-related deaths have occurred in Honda vehicles. The government is primarily concerned with these older vehicles because all of them were recalled between 2008 and 2011 and they still haven't been repaired.
Honda says more than 70 percent of vehicles in areas of high humidity have been repaired, but that still leaves 313,000 ticking time bombs traveling the roads of America.
The areas of high humidity (Florida, Texas, other parts of the Gulf Coast and Southern California) mentioned by NHTSA are a grave concern after scientists determined the airbags explode due to age, heat, humidity and the explosive chemical, ammonium nitrate.
The chemical is used as the explosive charge necessary to deploy an airbag in a crash, but the chemical is known for its sensitivity to moisture. What should be a small controlled explosion to deploy an airbag changes to a grenade-like explosion that sends shards of the metal inflator into occupants.
NHTSA says there is no excuse for owners to wait for repairs because Honda has assured the government plenty of replacement parts are available at dealerships. Honda also agreed to update safety regulators weekly about the progress of getting the 313,000 vehicles repaired.
In another unusual move, safety regulators have contacted the insurance industry in an effort to locate vehicles that need airbag repairs.
Although this latest action by NHTSA includes 313,000 vehicles, it's a small percentage compared to the 70 million Takata airbag inflators that will be recalled by 2019. Some of those vehicles are brand new and still being sold even though they will eventually need to be called back to dealers for repairs.
If you're not sure if your vehicle needs repaired, visit safercar.gov and input your vehicle identification number (VIN).