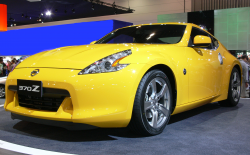 — Nissan 370Z clutch problems may be headed for court as a Nissan 370Z clutch class-action lawsuit alleges clutch pedals stick to the floors of the sports cars and leave drivers no way to shift gears.
Plaintiff Huu Nguyen says says he bought a 2012 Nissan 370Z in January 2012 and started having clutch problems which caused him to take the car to a dealership in March 2014.
The lawsuit alleges the 370Z clutch pedal was falling to the floor, leaving Nguyen with no way to shift the manual transmission.
According to the plaintiff, the dealership removed the FS6R31A manual transmission and replaced parts related to the clutch, but the clutch pedal continued to get stuck on the floor.
According to the plaintiff, Nissan has known about the 370Z clutch problems since 2008 because of customer complaints, but the automaker concealed the alleged defect from consumers. The lawsuit also alleges the automaker has refused to reimburse owners for repairs to the transmission and failed to order a recall to fix the cars.
Nissan 370Z owners, just like the plaintiff, complain about clutch pedals sticking on the floors and failing to engage the gears, including 370Z owners who wrote to CarComplaints.com.
"Clutch sticks to the floor after driving for about 15 min. sometimes it gets soft and spongy, pressure seems to leave. I have heard it is a slave cylinder problem and is common with 370z cars and should be recalled." - 2011 Nissan 370Z owner / Adamsville, Alabama
Another 370Z owner says they had to use their foot to pull up the clutch pedal just to shift gears.
"After some spirited driving my clutch pedal would not come back up from the floor. I had to put my foot behind the petal and pull it up. It felt soft after that until I pulled over and let things cool down. After looking on line others are complaining about the Clutch Slave Cylinder causing the issue as it is plastic and heats up very easily. This can be dangerous as driving on the highway or any road you need to shift gears when you need to shift gears, not when the clutch lets you!" - 2011 Nissan 370Z owner / Addison, Illinois
According to the lawsuit, the clutch problems cause excessive wear and tear on the transmissions and can leave the clutch pedal on the floor without a driver having any warning.
The proposed Nissan 370Z class-action lawsuit includes owners and lessees of any 370Z equipped with FS6R31A manual transmissions.
The Nissan 370Z clutch lawsuit was filed in the U.S. District Court for the Northern District of California - Nguyen v. Nissan North America Inc.
The plaintiff is represented by Capstone Law APC.
CarComplaints.com has complaints about Nissan 370Z cars and other Nissan models.