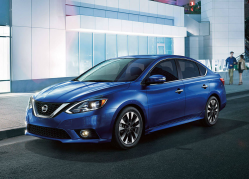 — Nissan is recalling more than 1,500 model year 2016 Sentra cars at risk of stalling while driving, or possibly not starting at all. Nissan says the root cause is an engine room harness that can lose its connection to the engine control unit.
Nissan says in April the automaker discovered a Sentra that wouldn't start during an inspection at the assembly plant. The automaker opened an investigation which showed a problem with a harness terminal pin.
The engine room harness supplier, Yazaki, identified an oversized diameter continuity check pin had caused a permanent change of the shape of one of the harness terminal pins. The shape of the pin was too large to maintain a connection to the engine control unit, resulting in a poor connection.
A follow-up audit of 383 cars identified 13 bad parts used in two Mexico assembly plants. On June 20, Nissan determined the Sentra engines could stop running while the cars were on the roads, although the automaker says it received no reports of that occurring.
The automaker says the recalled Sentras were built April 11, 2016, through April 26, 2016, and all will need the terminal pins replaced on the engine room harnesses.
Owners of the recalled 2016 Nissan Sentra cars who have questions should call the automaker at 800-647-7261.
CarComplaints.com has more than 600 complaints (and counting) about Nissan Sentra cars.