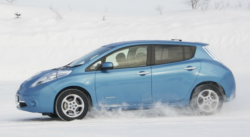 — Nissan is recalling almost 47,000 electric LEAF cars to fix brake problems that can occur in cold weather. The 2013-2015 LEAF has a relay inside the electronic brake booster that can freeze in cold weather and cause the driver to exert more effort to stop the car.
The recall was ordered after Nissan launched a "service campaign" in October 2015 on 2013-2015 LEAF cars. The voluntary service campaign was issued in the U.S. and Canada after Nissan said the problem wasn't related to safety.
Then in February 2016, Canadian authorities asked Nissan to change the service campaign to a safety recall and contact LEAF owners who hadn't brought in their cars for repairs.
However, Nissan refused and told safety regulators in Canada the automaker was pleased with the number of cars that had been repaired and again said it didn't consider the brake problem a danger to safety.
That stance has now changed as the automaker says it will officially recall the LEAF cars to please safety regulators in Canada and the U.S.
All affected Nissan LEAF electric cars that need repairs were built from November 19, 2012, to July 31, 2015, but Nissan says a recall schedule hasn't be figured out yet.
Once owners have been notified, dealers will reprogram the intelligent brake control software.
Affected owners of the 2013-2015 Nissan LEAF can contact the automaker at 800-647-7261.
CarComplaints.com has complaints you can read about the Nissan LEAF.