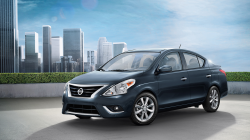 — Nissan is recalling more than 1,700 model year 2017 Versa subcompact cars with side curtain airbags that can fail to deploy properly, leaving an occupant not as protected as they should be.
Airbag supplier Autoliv was conducting routine testing in August when a side curtain airbag tore during deployment. After contacting Nissan about the malfunction, engineers determined the reinforcement stitching on the airbags may not properly secure two fabric sections of the curtain airbags.
The improper stitching is enough to cause the airbag to tear at the sewn seam when the airbag deploys. Nissan checked federal regulations to see if the problem was bad enough to order a recall, and although changes were made during assembly, the automaker said a recall was necessary.
The recalled 2017 Nissan Versas were manufactured during a short period lasting from August 1, 2016, to August 16, 2016.
Nissan doesn't know when the 2017 Versa recall will begin, but dealers will need to replace both left and right side curtain airbags in all the cars.
Versa owners who have questions should call Nissan at 800-647-7261.
Sweden-based airbag supplier Autoliv has been involved in recalls before, although nothing as drastic as what is seen with exploding Takata airbags that just killed another driver.
In June, Toyota recalled about 482,000 Toyota and Lexus models to fix problems with side curtain shield airbags made by Autoliv.
CarComplaints.com has complaints about the Nissan Versa and many other Nissan vehicles.